Floor cleaning is one chore that you just can't ignore. Your home's appearance will be affected if you have dirty floors. But some floors are harder to clean than others. Generally, the color of your floor decides which floor is easier to clean.
All floors get dirty and are cleaned similarly; it's just that some colors are better at hiding faults than others.
In most cases, lighter flooring shades, such as white, are easier to clean. On the other hand, black flooring is much more difficult as it displays more dust and dirt. But if you opt for mid-tones, such as brown or cream, they're the ideal choice when it comes to floor cleaning.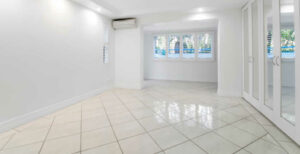 What is the Easiest Type of Floor to Clean?
If you categorize flooring based on the material, the easiest type to clean would be ceramic flooring. They come in various designs and have a very easy-to-clean surface. Linoleum is similar and the next best type of flooring you can use at home. They both offer easy floor cleaning and a smooth surface. Wooden floors are also easy to clean, but they are more expensive, so most homeowners tend to avoid using wooden floors because of budget restrictions.
Does Grout Have an Effect on Floor Cleaning?
For tiled floors, grout is an essential element that holds your tiles together. But if your grout is not sealed, it can get stained. Nothing downgrades the appearance of your tiled floor more than grouted tiles.
But if your grout is sealed or cleaned regularly, there's nothing for you to worry about; your tiles will always look new and clean.
How to Keep Your Floor Clean?
If you don't want to get permanent stains on your floor, you can follow some floor cleaning steps.
First, you should always leave a mat on the inside and the outside entrance of your house. This will prevent dust from your shoes from coming inside.
Get rid of any spills and spots as soon as you see them. Don't wait around, or they'll leave a permanent mark.
Sweep your floor as often as possible so no dirt, dust, hair, etc., accumulates on your floor
Clean the grout of your tiled floor as soon as you spot any signs of staining or get it sealed from the start.
The Bottom Line
Simply put, ceramic floors are the easiest to clean, and when it comes to color, light-colored floors are more favorable for floor cleaning.
To keep your floor in top shape, you can get them professionally cleaned from time to time. Grout Magnificent offers tile cleaning, grout cleaning, and sealing services. Get in touch today to get your floors cleaned by experts.