Tiles have been used historically as a durable and aesthetic option for covering floors, walls, roofs, and any other surfaces that may need beautification or water resistance. Tiles have been around for 6000 years and they have been preserved in ancient relics from thousands of years ago.
Tiled floors are reliable and long-lasting when it comes to flooring choices. A bathroom remodel might have you questioning, which is the most durable choice of tiles. You may also be wondering about how long you can expect it to last before you need another remodel or change of flooring.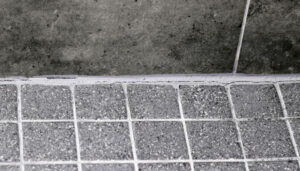 Tiles come in various materials with different lifespans and pros and cons. To help you select the most suitable tiles for a shower, here is a quick guide on some common types of tiles:
Ceramic and Porcelain Tiles
Ceramic and porcelain tiles are the most common choice of tiles, and there are numerous reasons why. Firstly, ceramic and porcelain tiles offer a wide range of choices in various colors, textures, shapes, and sizes. The creative freedom this offers is appealing along with their convenient usage.
Ceramic and porcelain tiles are also easily to replace. If one tile is cracked, you can just replace that single tile with a new one! You don't have to rip out the entire flooring.
You may be wondering how long does a ceramic or porcelain tiled shower last. Ideally, it should last around 60-80 years with yearly maintenance. You may need to reseal the tiles once a year and replace the grouting every ten years or more if you use the shower too frequently.
Stone Tiles
Stone tiles are made of granite, marble, or slate. It provides a natural and organic feel to a bathroom, but they are expensive and high-maintenance due to their porous nature. Shower tiles are more difficult to maintain compared to non-wet areas of the house such as the driveway. Stone absorbs water and soap and the sealant can quickly need renovation.
Stone is still a popular choice due to the aesthetic it presents. It lasts for a longer time as compared to ceramic or porcelain tiles. In fact, it can last hundreds of years, especially if the shower is not used frequently.
Glass Tiles
Glass tiles are an elegant choice for a contemporary bathroom. They are quickly growing in popularity. Glass provides a reflective surface, which gives depth and the illusion of space to the bathroom.
Glass isn't as durable as porcelain; you might have to frequently replace cracked tiles. It also gets scratches and loses its reflective quality quickly.
Which material of tile is the best choice for a shower floor?
Professionals recommend porcelain as the superior choice due to its affordability, durability, wide range of choices, stain and water resistance, and the ability to mimic any other material (such as faux stone).
Your choice depends on the style you wish to achieve and the material you are most comfortable with. Generally, tiles should remain fresh for at least 20 years.
CALL GROUT MAGNIFICENT FOR SHOWER TILE & GROUT CLEANING AT 239.476.8855